Visiting & Home Communion Resources
To assist with visiting and or home communion, please contact the church office.
The goal of our visiting ministry at Second Baptist Church is to expand the network of care offered by our Pastor, Deacons and Calling Committee. Having other trained people involved and informing our Pastor and Deacons of critical needs, helps us minister to our larger congregation and provide compassion to our Beloved Community.
On this page you will find four tools for visiting and serving communion: 1) Visiting Guidelines, 2) A Simple Communion Service, 3) A list of hopeful scriptures and 4) A list of prayers.
We keep a schedule of who is bringing communion to various people at home. There is a list available in the church office of who our home bound friends are. Our Pastor knows who is in need of immediate visits.
You may do this on Sunday or some other day of the week. It is very helpful when you inform our Pastor who you have been visiting and if there is someone in particular need of pastoral care.
Communion in the Home
Prepare
If you are new, have a Deacon who has done this before work with you.
Get the communion kit from the locked cabinet in the Activity Room kitchen.
It helps to have a partner set up communion while you chat a few minutes.
VERY IMPORTANT: Please wash out all communion kits as soon as you finish. The little juice bottles and the linings of the boxes get ruined easily. They are expensive. Perhaps use their kitchen or restroom.
A Simple Communion Service
Set communion up so they can see it. The tone should be one of THANKING GOD.
BEGIN: Sometimes you may need to say, "Let's share Communion together."
When we share Communion, we are part of the whole Body of Christ at Second Baptist and around the world. We come not because we must, but because we may. We come not because we are strong but because we are weak. We come not because we deserve God's blessing, but because Jesus said, "If any would come after me, I will not cast that one out."
Words of Institution, 1 Corinthians 11:23-26
(Hold up a piece of bread up towards your eyes so they can see and say:)
The Lord Jesus on the night when he was betrayed
took a loaf of bread,
and when he had given thanks, he broke it
(Break the bread)
and said,
'This is my body that is for* you.
Do this in remembrance of me.'
(Serve the bread. You may need to place it in their hand.)
(Hold the cup up towards your eyes so they can see.)
In the same way he took the cup also, after supper, saying,
'This cup is the new covenant in my blood.
Do this, as often as you drink it, in remembrance of me.'
For as often as you eat this bread and drink the cup,
you proclaim the Lord's death until he comes.
(Serve the cup. You may need to place it in their hands.)
You may conclude with a prayer. Consider ending by saying The Lord's Prayer together.
Our Father who art in heaven, hallowed be thy name. Thy kingdom come, thy will be done on earth as it is in heaven. Give us this day our daily bread and forgive us our debts as we forgive our debtors, and lead us not into temptation, but deliver us from evil. For thine is the kingdom and the power and the glory forever. Amen.
Comforting Scriptures to Use When Visiting
Psalm 22 - My God, my God, why have you forsaken me?
Psalm 23 - The Lord is my shepherd.
Psalm 27 - The Lord is my light and my salvation – whom shall I fear?
Psalm 46 - God is our fortress & our strength a present help in time of trouble.
Psalm 51 - Create in me a clean heart, O God, and renew a right spirit in me.
Psalm 139 - O God you have searched me and known me.
Psalm 150 - Let everything that breathes praise the Lord.
Isaiah 2:1-4 - They shall beat their swords into plowshares.
Isaiah 40:27-31 - Those who wait for the Lord shall renew their strength.
Isaiah 50 - He was wounded for our transgressions, bruised for our iniquities.
Isaiah 53 - Surely he has born our griefs and carried our sorrows.
Isaiah 60:1-3 - Arise, shine; for your light has come.
Matt 5:1-10 - Blessed are the poor in spirit for theirs is the kingdom of heaven.
Matt 7:7-11 - Ask and you will receive; seek and you will find.
Matt 11:28-29 - Come unto me, all you who are weary and heavy laden.
John 3:16-17 - For God so loved the world that God gave his only begotten son.
Romans 3:23 - All have sinned and fallen short of the glory of God.
Romans 7 - I do not do what I know what is right.
Romans 8:28 - All things work together for good for those who love God.
Romans 8:31-39 - Nothing can separate us from the love of God.
Romans 12:3 - Do not think of yourselves more highly than you ought.
Romans 12 - Marks of a true Christian & Church - Humility - One Body in Christ
Galatians 3:28-29 - There is no longer Jew or Greek, male or female... one in Christ.
Galatians 5:22-23 - The fruits of the Spirit are love, joy, peace, patience...
Phil 2:1-10 - Let the same mind be in you that was in Christ Jesus.
1 John 4:7-8 - Beloved let us love one another.
Prayers and Readings for Visiting People at Home
PLEASE NOTE: Our Chalice Hymnal also has many wonderful prayers and readings.
The Lord's Prayer (debts)
Our Father who art in heaven Hallowed be thy name. Thy kingdom come, thy will be done on earth as it is in heaven. Give us this day our daily bread. And forgive us our debts as we forgive our debtors, and lead us not into temptation, but deliver us from evil. For thine is the kingdom and the power and the glory forever. Amen.
The Lord's Prayer, A Modern Interpretation
From The Prayer Book of The Anglican Church of New Zealand
Eternal Spirit, Earth-maker, Pain Bearer, Life-Giver, Source of all that is and that shall be. Father and Mother of us all, Loving God, in whom is heaven: The hallowing of your name echo through the universe! The way of your justice be followed by the peoples of the world! Your heavenly will be done by all created beings! Your commonwealth of peace and freedom sustain our hope and come on earth. With the bread we need for today, feed us. In the hurts we absorb from one another, forgive us. In times of temptation and test, strengthen us. From trials to great to endure, spare us. From the grip of all that is evil, free us. For your reign in the glory of the power that is love, now and forever. Amen.
The Serenity Prayer (Wrestling With Addiction)
God grant me the serenity to accept the things I cannot change, the courage to change the things I can, and the wisdom to know the difference.
Living one day at a time,
Enjoying one moment at a time,
Not taking matters into your own hands when you are an addict,
Forgiving others and yourself to live the right way,
When you right then you find out who you really are,
Telling yourself that what you do will not affect others because it doesn't,
Accepting hardship as a pathway to peace,
Loving, as Jesus did,
Not his sinful world but who I am,
Not as I would have it,
Trusting that You will make all things right,
If I surrender to God's will,
That I may be reasonably happy in this life
And supremely happy with You forever in the next.
Amen.
Benediction From the Book of Numbers (over 3,000 years old)
May God bless you and keep you. May God's face shine upon you, and be gracious unto you, and give you peace both now and forever more. Amen.
Navajo Prayer
God is before us. God is behind us. God is above us. God is below us. God's words shall come from our mouths. For we are all God's essence, a sign of God's love. All is finished in beauty. All is finished in beauty. Amen.
Peace Prayer
God of quiet streams and still waters, calm the storms of war that rage in our world and the torrents of chaos that crash in our hearts. We pray for peace to pour down from on high, for justice to flow like an everlasting stream. Grant that your river of abundant lives surge toward those who thirst in body and soul for peace in the midst of war, truth in the midst of lies and deceit, forgiveness in the midst of vengeful anger, hope in the midst of death and despair, reconciliation in the midst of estrangement. Drench us with your peace that passes all human understanding. Shine on us the light of your burning Presence that we might become beacons of reconciliation, lamps on lamp stands, a city set on a hill, that others might be drawn to you and your goodness and grace that transforms the world through Jesus Christ. Amen.
Prayer for Protection
The light of God Surrounds me. The love of God enfolds me. The power of God protects me. The Presence of God watches me. Wherever I am, God is! Amen.
Kaddish, A Hopeful Jewish Prayer for the Dead
May God's great name be magnified and made holy in the world which God has created according to his will. May the Lord establish his reign of true peace and justice soon, in our lifetime. May God's great name be praised to all eternity. Hallowed and honored, extolled and exalted, adored and acclaimed be the name of the Holy One, though God is above all the praises, hymns, and songs of adoration that people can say. May God grant abundant peace and life to us and to all. May the One who ordains harmony in the universe grant peace to us and to all people. Amen.
Prayer of St. Francis
O Lord, make me an instrument of Thy Peace! Where there is hatred, let me sow love; Where there is injury, pardon; Where there is discord, harmony; Where there is doubt, faith; Where there is despair, hope; Where there is darkness, light, and Where there is sorrow, joy. Oh Divine Master, grant that I may not so much seek to be consoled as to console; to be understood as to understand; to be loved as to love; for it is in giving that we receive; It is in pardoning that we are pardoned; and it is in dying that we are born to Eternal Life. Amen.
Irish Blessing
May the road rise up to meet you. May the wind be always at your back, the sun shine warm upon your face, the rain fall soft upon your fields, and until we meet again may God hold you in the hollow of His hand. Amen.
Song of Simeon - Nunc Dimittis, Luke 2:29-32
Master, now you are dismissing your servant in peace according to your word for my eyes have seen your salvation, which you have prepared in the presence of all peoples, a light for revelation to the Gentiles and for glory to your people Israel. Amen
A Benediction by The Rev. Henri Amiel
Life is shore and we do not have much time to gladden the hearts of those who walk the way with us. So, be swift to love. Make haste to be kind, and may God our Creator, Redeemer and Sustainer abide with you this day and forever more. Amen.
Prayer of St Theresa of Avila
O God, remind us that Christ has no body now but ours. No hands, no feet on earth but ours. Ours are the eyes through which Christ looks compassion on the world. Ours are the feet with which Christ walks to do good. Ours are the hands with which Christ blesses all the world. Ours are the hands. Ours are the feet. Ours are the eyes. We are Christ's body. Amen.
Fount of All Life - United Theological College, Bangalore, India
Fount of all life, dancing in bliss, Breaking down walls, making new space. Burning up evil, creating afresh, Calling your people, follow in faith. Living with Jesus, power in his Name, Healing the broken, restoring the lame. Casting out demons, raising the dead, Calming life's storms, removing all dread. Living to serve, confirmed from above, Tested by fire, aflame with God's love. Seeking the lost, sharing all pain, Love at such cost, rising again. Lighting our path, dancing ahead,Leading through death, lifting to life. Amen.
Footprints in the Sand
One night a man had a dream.
He dreamed he was walking along the beach with the Lord. Across the sky flashed scenes from his life. For each scene he noticed two sets of footprints in the sand; one belonged to him, and the other to the Lord.
When the last scene of his life flashed before him, he looked back at the footprints in the sand. He noticed that many times along the path of his life there was only one set of footprints. He also noticed that it happened at the very lowest and saddest times in his life.
This really bothered him and he questioned the Lord about it. "Lord, you said that once I decided to follow you, you'd walk with me all the way. But I have noticed that at the worst times in my life, there is only one set of footprints. How could you leave me when I needed you the most?"
The Lord replied, "My precious, precious child, I love you and would never leave you. During your times of suffering and when you see only one set of footprints, it was then that I carried you."
These Prayers Are More Meditative
Go Slowly, Listen For the Holy
(Passed on to Linda Isham by Maria Harris)
Sister, brother, take your time.
Go slowly.
Listen deep inside you.
Every hour is holy.
NOTE: The first line can be adapted to "Sister, sister" or "Brother, brother"
Meditative Breathing Prayers
PLEASE NOTE: The following prayers can help connect you to God and bring about a state of relaxation and spiritual peace. The Relaxation Response™ has been proven medically by Dr. Herbert Benson at Harvard Medical School. The response achieved through prayer is stronger than the response through meditation alone. It lowers the heart rate, breathing rate and blood pressure. It calms the mind. It releases positive endorphins into the body and assists in creating white blood cells that fight infection.
With practice, you can attain the strong, prayerful state of the Relaxation Response™ in 60 seconds. Start by doing practicing these prayers for 5 minutes. Increase the length each time until you reach 15 minutes. Once you are at this level, you will be able to get back to it in a minute's time.
While not required, these prayers work best when you sit in a comfortable chair, with both feet flat on the floor shoulders width apart and your hands in your lap. They are done with your eyes closed. If your mind wanders, that is normal. Simply refocus your breathing.
Simple Breathing Prayer
Breathe in and out slowly. Now take a deep breath. As you breath in, let the Holy Spirit come into you. As you exhale, the Holy Spirit remains with you, but allow God to take away your pain, worry, trouble, sin, sickness, etc. If your mind wanders, that's normal. Just refocus on your breathing. Repeat for 5-15 minutes.
Mantra Prayer
Choose a mantra. This is simply a word that connects you to God. It does not matter too much what the word is. What's important is that the word does connect you to God. You may also wish to think of a location where you feel especially close to God.
This works like the breathing prayer, but you silently repeat your mantra with each inhale and exhale. If your mind wanders, that's normal. Just refocus on your breathing and mantra. Repeat for 5-15 minutes.
The Jesus Prayer
(From Dr. Marcus Borg)
Inhale: Lord Jesus Christ
Exhale: You are the light of the world.
Inhale: Fill my mind with your peace.
Exhale: And my heart with your love.
Short Version for Working Out with Faster Breathing
Inhale: Lord Christ
Exhale: Light World
Inhale: Mind Peace
Exhale: Heart Love
Or
Inhale: God is calming.
Exhale: God is smiling.
Inhale: God dwells in this present moment.
Exhale: It is a wonderful moment.
Short Version
Inhale: Calming
Exhale: Smiling
Inhale: Present Moment
Exhale: Wonderful Moment
Cute Cheeky "Zen" Version
Inhale: Calming
Exhale: Smiling
Inhale: Present Moment
Exhale: Wonderful Moment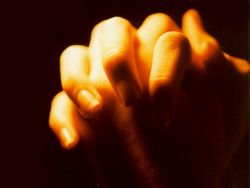 100 North Main Street Suffield, CT 06078
860-668-1661