Camp Wightman Offers Life-Changing Opportunities Year-Round​
Camp Wightman is located in North Stonington, Connecticut, and provides year-round Christian hospitality and summer camping programs on 260 acres of land on the shores of Billings Lake. Whether your interest is in one of our summer camping programs or in finding a location for agroup retreat, conference, or meeting, we think you will find that Camp Wightman is not only a place for all seasons, but for all seasons of life.
Camp Wightman has been a ministry of the American Baptist Churches of Connecticut (ABCCONN) for almost 50 years with summer camping programs available for children, youth, adults, and families. Specialty camps include: Music, Canoe, Pioneer, Senior Adults, Adults with Special Challenges, Drama, Aquatics, etc. During the rest of the year, Camp Wightman hosts weekend and weekday retreats, conferences, and workshops for school groups, churches, and other organizations.
After visiting the Camp Wightman website, feel free to contact them for more information or for a tour of the camp.
Camp Wightman's Web Site for Information, Registration & Directions
207 Coal Pit Hill Road, Griswold, CT 06351
860-376-2179 (voice) 860-376-7059 (fax)
E-mail wightman@campwightman.org
​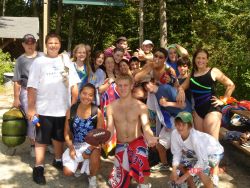 SUMMER CAMP REGISTRATION IS A TWO-STEP PROCESS.
1. Register at Camp Wightman.
2. Church members may apply for a 50% campership. For each person attending please e-mail us (a) their name (b) the date they are going, (c) the specific camp program they are attending (i.e. Junior 2, Acquatics Camp, Drama Camp, Wild Women) and (d) the cost of that camp. We will inform the camp & send 50% payment.
​
100 North Main Street Suffield, CT 06078
860-668-1661